Nimz1466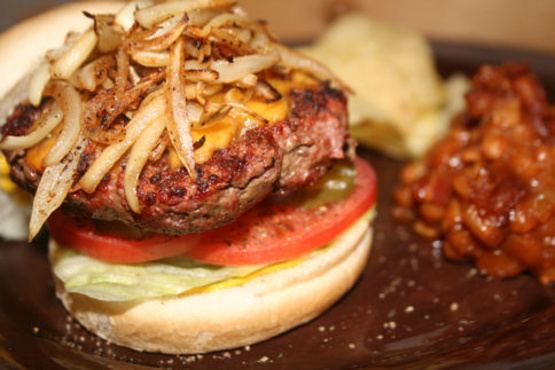 This is the way they used to be. 1/4 pound, char grilled, all beef, only with a little mayo, lettuce, onion, tomato, and pickles on a good bun with lots of nice, cheddar cheese.
1. Shape the beef into 4 1/4 lb. balls. Flatten them until about 1/4 inch. season with season-all.
2. Get a pan medium-hot and add the onions. Salt then let cook for 10 minutes, until brown.
3. Get a grill hot then put the burgers down. cook 3 minutes then flip. Cook 2 minutes then add a palmful cheddar and cook 1 more minute.
4. Wile burger is cooking, toast the buns and spread on some mayo. Put a lettuce leaf on the bottom, then tomato and pickle slices on top.
5. Slide the burgers onto the buns and top with the molten-hot onions. Enjoy!