Old Fashioned Gingerbread Loaf
Jewelies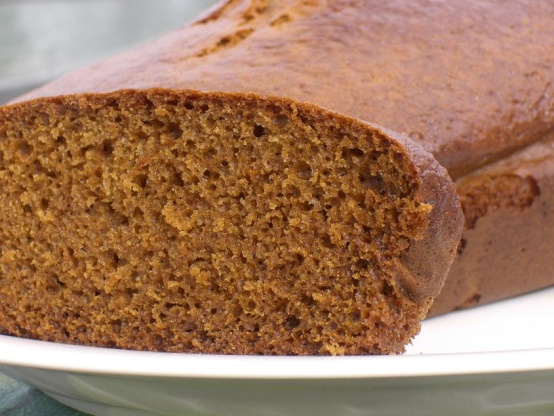 Fabulous New Zealand Loaf. A loaf tin for this is 25cm x 11cm.

Very, very good. So easy to make and it came out perfect. My mixed spice was 1/4 teaspoon each of cinnamon, cloves, cardamon and ginger (a little more ginger can't hurt.......). It smelled wonderful while baking and was even nicer when cooled. I also liked the fact that the syrup was not overpowering, just a hint. All in all a gingerbread I will surely make again. Thanks for posting.
Preheat oven to 180°C.
Line a loaf tin with baking paper.
In a medium saucepan, gently melt the butter and golden syrup together.
In a mixer cream together egg, and sugar - mix well.
Add the melted syrup mixture.
Sift and mix in all other ingredients except the baking soda and milk.
Mix the baking soda with the milk then gradually stir this into the mix. The mixture will be quite runny.
Pour into loaf tin and cook for about 35 mins or until ready when tested with skewer.