Peter J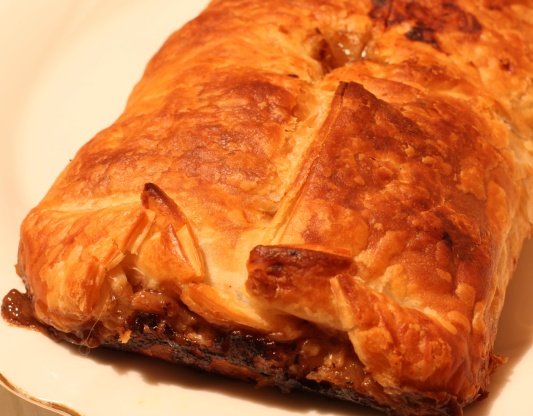 I love pies, and I especially love meat pies with mushrooms in them ! , this one is simple to make and very tasty. Great on a cold winter night, by itself or served with chips, mashed potatoes or mushy peas.... hope you like it
Cook beef and onion in a large sauceppan until the meat is browned and the onion softened.
Add the whole tin of mushrooms juice and all, stir well.
Mix gravy powder and the flour into a smooth paste with the water.
Add to meat and stir until its thickened (use your judgement here, if you like a little more gravy add a small bit of water).
Grease a 20cm pie plate and cover base and sides with puff pastry.
Spoon in meat filling and press down firmly.
Cover in pastry, trim edge and press together with a fork to make a decorative edge.
Pierce with a fork a couple of times or I like to cut a v in the top flipping it over to make a little triangular hole.
Lightly brush with milk and decorate with excess pastry if desired.
Cook in a preheated oven at 200 degrees for 25 minutes or until golden brown.
I have also used fresh mushrooms in this, add them after you brown the meat, you may need to add a little more water if you use fresh mushies, again, use your judgement.