ChefLee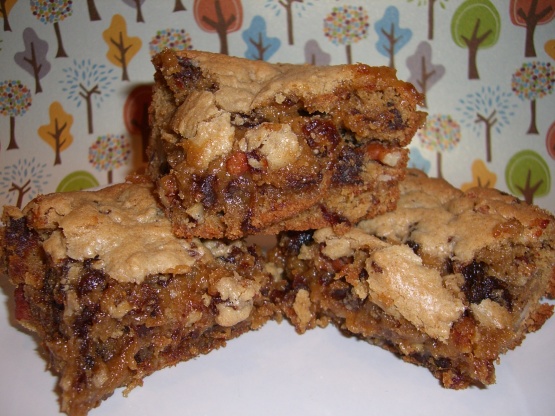 Wrap in festive packaging to give as hostess gifts!

I'm surprised no one else has made these delicious bars before! I made them yesterday and what an absolute hit they were with everyone! I followed the recipe exactly as given...the only deviation that I did do was to substitute pecans with walnuts (because I did not have pecans). The date bars were amazing! I will definitely be making them again and again. In Hindi, 'bar-bar', means 'again and again'. Well this is what my family calls your date bars....'date bar-bar'! Needless to say, I will be making them bar-bar!! A definite keeper and deserves a big 5 star rating by any standards. Thank you for sharing your recipe.
Preheat oven to 375°F.
Cream together butter and sugar until light and fluffy.
Beat in eggs one at a time.
Stir in vanilla.
Mix together flour, baking powder, and baking soda; and gradually add to the creamed mixture.
Fold in the dates and nuts.
Spread the batter evenly in a greased 13x9 baking pan and bake at 375°F for 25 minutes or until golden.
Cool in pan.
Cut into approximately 24 bars.