CareBare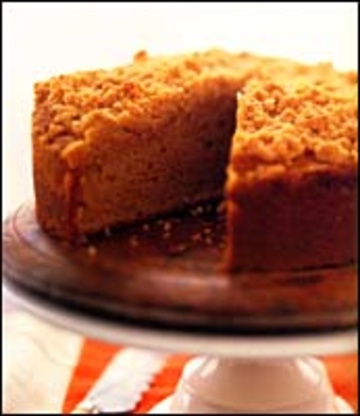 What a wonderful old classic! It's buttery, moist, and simply LUCIOUS!! Your friends and family will be coming back for more. TIP: Do not insert a toothpick to test for doneness until center is firm when pan is shaken.

I love making coffee cakes on the weekends and couldn't resist the nice photo! I was short on flour and had to use 1 & 1/2 cups of cake flour (plus 3 tbs- to equal all-purpose) with half cup all-purpose. I did use just a pinch of allspice and it adds a nice flavor to the topping. I also couldn't find the bottom to my spring form pan and baked in a bundt pan. This worked out perfectly and I cut the cooled cake directly from the pan (instead of flipping over) so I wouldn't lose any precious topping crumbs. My son and husband especially loved this. It IS worth using the larger amount of butter than I usually put in coffee cakes. It really made this a terrific butter cake and I will definitely make again. Thanks Pepina Rae, for posting! Roxygirl
Adjust oven rack to center position and heat oven to 350°.
Generously grease bottom and lightly grease sides of 10-inch springform pan and dust with flour.
With electric mixer, mix flour, sugar, and salt in large mixing bowl until blended.
Cut in butter until mixture resembles coarse crumbs.
Remove 1 cup of crumbs to separate bowl.
Mix baking powder and soda into mixture remaining in large mixing bowl.
Add buttermilk, egg, and vanilla; mix well until batter is thick, smooth, fluffy, and frostinglike, 1 1/2- 2 minutes.
Using a rubber spatula, scrape batter into prepared pan and smooth top.
Add nuts, brown sugar, cinnamon and allspice to reserved crumbs; toss with a fork or your hands until blended.
Sprinkle crumbs over batter, pressing lightly so that mixture adheres.
Bake cake until center is firm and cake tester comes out clean, 50- 55 minutes. TIP: Do not insert a toothpick to test for doneness until center is firm when pan is shaken.
Transfer cake to rack; remove pan sides.
Let cake cool completely, about 2 hours, before serving.
When completely cooled, cake can be slid off pan bottom onto serving plate.