Old-Fashioned Black Cherry Cobbler
XAnnette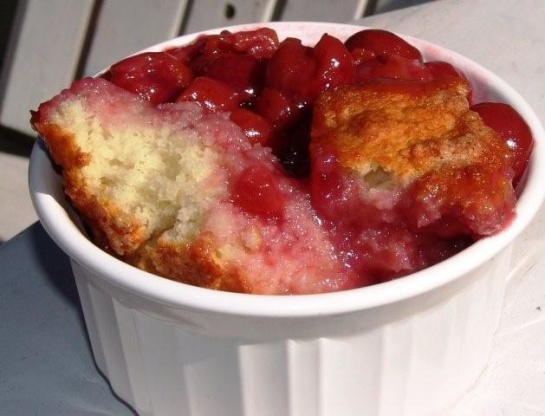 Oh, so good! (Prep time doesn't include pitting the cherries.)

I really liked the cherry filling, but the crust left something to be desired. I thought it was not sweet enough. It tasted like plain bisquick dough and I even added the sugar on top. Undecided on whether I will try it again to see if it was a chef error.
Preheat oven to 425 degrees F.
In mixing bowl, combine cherries, flour and sugar; toss to coat evenly.
Place in 8" square pan and bake for 25-30 minutes until bubbly.
Meanwhile, sift flour into bowl; add baking powder, soda, and salt; and cut in chilled butter with pastry blender or 2 knives. When pea-sized texture, add buttermilk -all at once- stir just to blend.
DO NOT OVERMIX; dough will be tough.
When cherries are finished baking, remove from oven, drop dough by large spoonsful over cherries, and sprinkle lightly with granulated sugar.
Return to oven for 25-30 minutes or until topping is done and golden brown.
Serve hot or cool with whipped cream.