Bergy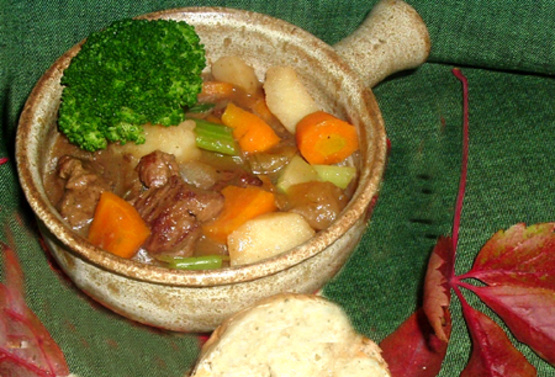 This stew is awsome! It serves a family of 4 perfectly for dinner. And it goes great with cornbread.I used a family recipe and adjusted it a little to please the whole family.

Nice simple recipe and was glad there was no corn starch or too much of a tomato flavour. Made this vegetarian with portobello mushrooms and veggie stock. Excellent -- just like a 'beef' stew from before I became veg. Added worcestershire sauce and thyme.
coat meat with flour then brown in the oil in a skillet on stove top.
takes about 2 minutes on med heat.
lightly salt and pepper while browning.
In a stew pot place meat and cover with water.
Add onion, rosemary, celery seed, and boullion cubes.
Simmer on medium heat for 2 1/2 hours or until meat real tender.
May have to add more water occasionally.
After meat is tender, add potatoes and carrots and cook till vegetables are tender.