Old-Fashioned Beef Pot Roast
Annacia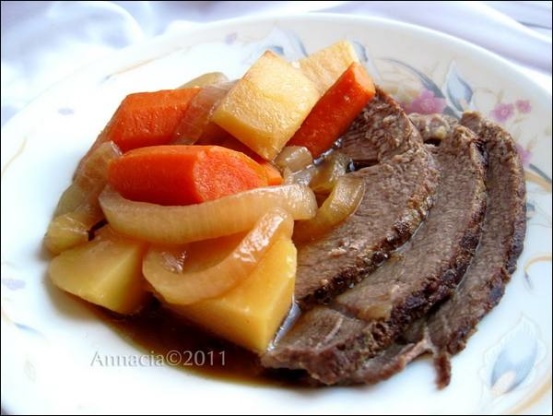 From our local paper. In the original recipe 3 brown onions (roughly chopped) were used but due to allergy issues they have been omitted and also 2 bunches of baby carrots (trimmed) and 3 parsnips and I have added potatoes.
Preheat oven to 160°C.
Peel and chop vegetables into large bite size pieces.
Heat butter and oil in a big oven proof pot and add meat and brown on all sides.
Remove meat and add garlic, cook till fragrant (if using onion add with garlic and cook for a few minutes) and then add remaining vegetables and bay leaves and cook for a few more minutes.
Add the brandy and cook till evaporated.
Remove the vegetables from the pot and put the meat back and then pile the vegetables on top.
Pour the vinegar and stock over meat and vegetables.
Place the lid on and cook in the oven for 2 - 2 1/2 hours at 160°C.
Carve meat and serve combined with vegetables and juices.