Old-Fashioned Bean Pot Baked Beans
KateL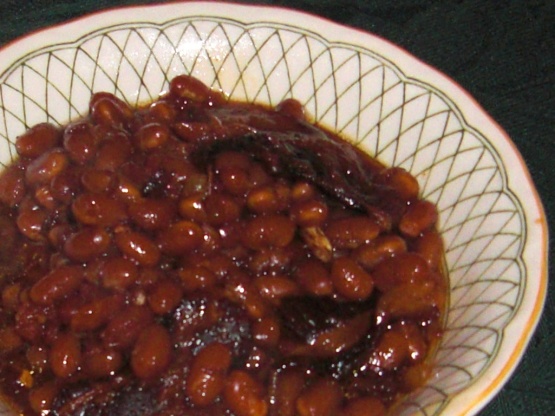 This recipe is a good excuse to go antique shopping for an oven-proof, lidded bean crock. You can also use a lidded Dutch Oven. Fabulous beans--a real crowd pleaser.
Great recipe! My father and I have both made it (me once, him a handful of times) and we both really enjoyed. The only thing that I would do differently is next time I would leave out the maple syrup, like someone else said it is just a bit pricey and I want to make these to save some money. The only thing I changed with my recipe is that I used bacon instead of salt pork, it melted away beautifully. I also cooked mine at a lower temp for longer, because I knew I would be out of the house for a while and I didnt want anyone else to have to mess with it.
Rinse beans and pick them over. Put beans in a large plastic container with three times as much water as beans. Cover and refrigerate overnight.
Drain beans. Combine beans and chopped onion in a large saucepan. Add water to cover them and heat to boiling. Cover and let simmer about 30 minutes. Drain liquid into a small bowl to reserve for sauce and for cooking.
Measure 1/2 cup of the bean liquid into a bowl. Add the orange juice, molasses, maple syrup, ketchup, and prepared mustard. Then add the brown sugar, stirring to dissolve. Lastly, add the dry mustard and salt and combine.
In a 2-quart bean crock or covered baking dish layer half the salt pork and all of the beans, making sure to bury the peeled, whole onion in the bottom. Pour the sauce mixture over beans and add just enough reserved bean liquid to cover them. Top with remaining salt pork.
Bake, covered, at 300 degrees for 4 hours, checking on the hour. If beans seem too dry, add a little of the remaining bean liquid. Uncover and then bake for one hour more.