Old Fashioned Baked Mac 'n Cheese
Prep 45 mins
Cook 15 mins

Most requested recipe for me to bring to a potluck or family reunion. I received it from my husband's aunt in the 1960s and has since been my favorite dish. The recipe may be halved for a 9 x 9 inch baking dish.
Directions
Cook macaroni noodles in salted water until just before being tender. (Noodles will continue to bake in dish.).
While noodles are cooking, beat eggs in a large bowl.
Add milk to eggs and stir in all other ingredients except the 8 ounces of cheese.
Combine drained noodles with egg mixture.
Pour into buttered 9 x 13 inch baking dish.
Begin baking at 450 degrees for 15 minutes. Then reduce heat to 375 degrees and bake 15 more minutes until becomes bubbly and slight brown at edges. Sprinkle 8 ounces of cheese on top and bake for last 5 minutes. Do not over bake. Remove from oven and let sit for 5 minutes.
Most Helpful
Took this dish to a lake cook-out. It was a huge hit. Followed the recipe to the letter with one exception...dusted with finely crushed cheez-its when sprinkling the cheese on top for the last 5 minutes of baking. It really crisped up the top. Comfort food at it's best. Thanks for posting.
This was an excellent mac n cheese recipe. I used a 9X15 in baking dish and the mixture fit in it perfectly. I also broiled it for a few minutes to brown the top and get a little crunch. It was simple and delicious. Thank you Seasoned. I will never use a different mac n cheese recipe again.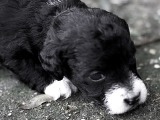 I was after *comfort food* & found it big time w/this classic & creamy Mac & Cheese. I halved the recipe, made as written & baked it in a 7x11-in baking dish (slightly larger than the 9x9-in suggested, but it was filled to the top). I found it in need of salt & pepper, but know that is a maatter of pers pref. I served it w/a sml hamb steak well-seasoned w/Montreal Steak Seasoning & topped w/caramelized onions for 1 of the most satisfying comfort food meals I can recall. *Yum* ! Thx for sharing this great recipe w/us. :-)