Old Fashioned Apple Salad With Cooked Dressing
Mercy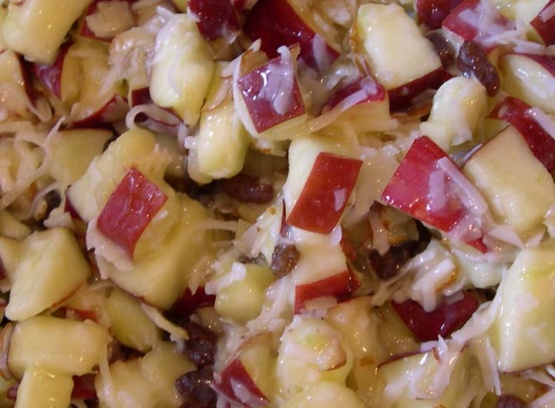 This was my grandmother's recipe, passed down from her mother. The cooked dressing is so fantastic that it is hard to save some for the apple salad once you taste it. It is similar to a lightly sweetened lemon curd. Scrumptious! Grapes or raisins can be added also.

I'm thrilled to be the first to review this, since it was scrumptious! So much better than a traditional waldorf salad and less fat, too. I would never have trouble getting my "five a day" if I always had this in the fridg. I cooked my dressing over a double boiler and didn't make any changes. Thanks so much for sharing your delicious family recipe. Roxygirl in Colo.
Combine all the dressing ingredients in a saucepan (sometimes I add the raisins in also, so they plump up before they go into the salad).
Cook over low/medium low heat, while stirring constantly, until thickened and somewhat gloppy.
Allow to cool (I put it in a bowl and stick it in the freezer for about 15 minutes, stirring occasionally).
Mix together the salad ingredients (don't forget to toss in some extra lemon juice to keep the apples from browning).
Pour the dressing over the salad and stir together (the dressing is a little gluey, so you will have to work it into the salad).