Old Fashioned Apple-Raisin Crunch a La Mode
gailanng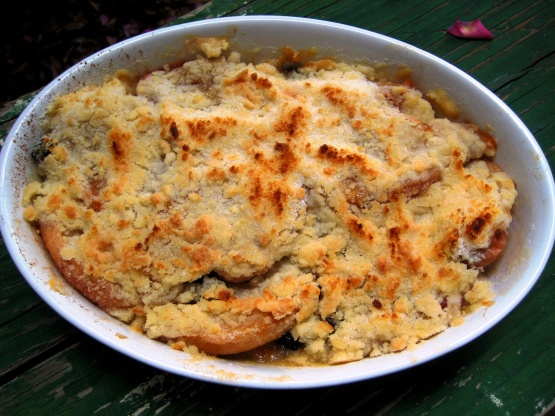 A Frank Davis recipe from New Orleans, Louisiana. In his own words, "Telling you about this dish doesn't do it justice--you gotta taste it for yourself!"

Aside from the fact that the kids refused to eat it because of the raisins (ewww, bugs), this was a wonderful dessert (adults loved it). I used my homemade orange liqueur and some local apples that are half yellow, half red. I actually didn't follow the directions, just played with the ingredients, eyeballing as I went along. Served this up with some homemade vanilla ice cream, perfect for a hot Saturday lunch!
Preheat oven 400 degrees.
In a heavy 12" skillet over medium heat, melt 1/4 cup butter, watching that it doesn't burn.
Gradually add the 1/2 cup sugar and stir the mixture until the sugar is completely dissolved, becomes carmelize and reduced.
Slowly add the liqueur and the apple juice, stirring constantly until all the ingredients are smooth.
At this point, drop in the sliced apples and sprinkle cinnamon over the top.
Mix together well, making sure that the apple slices are coated with the syrup.
Reduce the fire to low and simmer the fruit until it begins to soften, about 5 minutes. Do not over cook because the dessert will be baked later.
While the apples are simmering, butter a 10"x12" baking dish with the 3 tablespoons butter. Evenly sprinkle the 1/2 cup raisins on the bottom.
In a large bowl, mix together the 1 cup flour, 2/3 cup sugar and 1/2 cup softened butter to form a crumbly topping that resembles granola. This works best if using 2 knives to "cut" the ingredients into each other.
Finally, pour the apple mixture into the prepared baking pan with raisins then sprinkle the pastry mixture over the top of the apples, working a little of it into the fruit.
Bake in preheated oven for about 20-30 minutes or until the top turns a crunchy, crispy brown.
Spoon generous helpings of the apples, raisin and crunchy topping into small bowls and serve piping hot, topped with slightly softened vanilla ice cream.