Nimz1466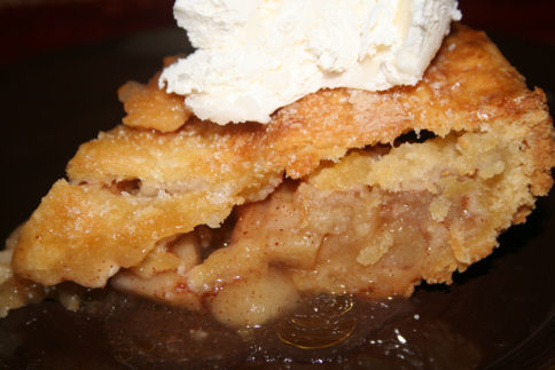 Ive made this recipe for years and I love it.

This was a nice apple pie. The instructions don't mention what to do with the sugar for sprinkling so I did that to the top when I brushed with the egg mixture. The instructions also do not tell you what to do with the butter, so I cut it into slim strips and placed on top of the apples before adding the top crust. All in all a nice pie. Used your recipe #338544 for the crust. Thanks for sharing. Made for Fall PAC 09 :)
Pre-heat oven to 425*.
Peel, core, and thinly slice apples.
In a small bowl, combine brown sugar, 1/4 cup sugar, cornstarch, cinnamon, and nutmeg.
add sugar mixture and lemon juice to apples tossing gently to combine.
mound apple mixture into crust.
press down gently.
Fold the edges of the top crust under the bottom crust; crimping edges.
In a small bowl whisk together egg and cold water; set aside.
Bake pie for 20 minute
Reduce oven temp to 375* and bake another 30 minute.
Brush top of crust with egg mix and bake another 10 minute.