gailanng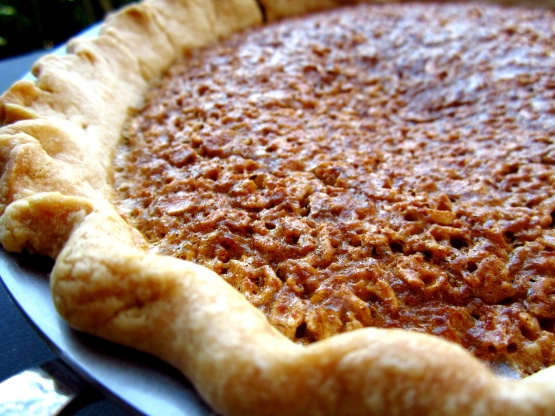 This great pie recipe goes back over 100 years. The recipe came from my grandmother's grandmother who was living in Charleston, South Carolina during the 1860's. Family history has it, that during the Civil War, since pecans were in short supply in the South, oatmeal was substituted for the traditional pecan pie and the results were astonishing. Now served at every family gathering since that time.

Easy and tastes wonderful. If anyone reading this is from Eastern PA, (Lehigh Valley Area), this tastes like Moravian Coffee Cake, but in a pie form with extra moistness. I will definitely be making this again.
Preheat oven to 350°F.
Beat eggs until frothy.
Combine sugar, flour, cinnamon and salt in a small bowl.
Add eggs; mix well.
Add corn syrup, melted butter, and vanilla.
Mix oatmeal.
Pour into uncooked shell.
Bake for 45 minutes.