Old Fashion Cinnamon Rolls
CindiJ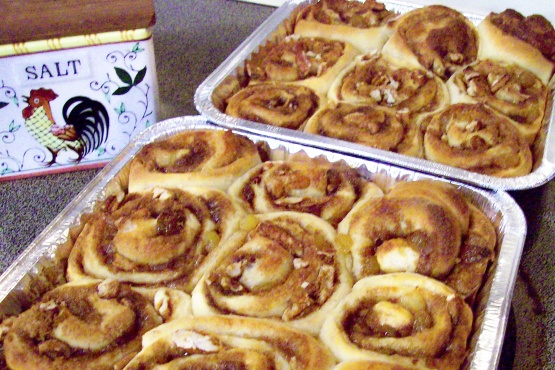 I came across this recipe in 1990 and make these every Christmas for client gifts. Friends request these for birthday instead of cake! I've adapted this recipe slightly according to tips and suggestions from all that receive these rolls. Please note prep time does NOT include times for dough to rise

Great Rolls! I made the recipe "as is" and found the directions to be clear and easy. I overbaked mine a bit and will watch them closer next time. I love the plumping of the raisins before had - they stand out nicely in the rolls. I also like the addition of oatmeal to the dough. It's not noticeable in the finished product but makes it seem like a healthy addition. They were enjoyed. Thanks for your advice and help Cindi!
Combine milk, shortening, 1/4 cup dark brown sugar and salt in medium suacepan; heat until shortening melts, stirring occasionally.
Cool mixture to 110º.
Dissolve yeast in 1/2 cup warm water in large mixing bowl; let stand 5 minutes.
Stir in milk mixture, eggs, 1 cup flour, and oats mixing well.
Gradually stir in enough remaining flour to make a soft dough.
Turn dough out on floured surface and kneed until smooth and elastic (8-10 minutes).
Place in well greased bowl, turning to coat.
Cover w/plastic wrap and let rise in a warm place (free from drafts) 1 hour or until doubled in bulk.
Punch dough down; cover and let rest 10 minutes.
Place golden raisins in 1/4 cup water and simmer on stove for 5 minutes.
Remove from heat, leaving raisins in liquid.
Divide dough in half and roll each half to a 12 inch square.
Spread each square with 1 tablespoon butter.
Drain raisins.
Combine 1 cup dark brown sugar, 1/3 cup butter, raisins, pecans and cinnamon; spread evenly over dough.
Roll up each square of dough (jellyroll fashion) pinching seams to seal (do NOT seal ends).
Cut into 1 inch slices, place slices in two greased 8 inch square baking pans.
Cover and let rise in warm place free from drafts approximately 45 minutes or until doubled in bulk.
Bake at 375º for 15-20 minutes or until golden brown.
Combine powdered sugar and water, drizzle glaze over warm rolls.