Old Fashion Butter Pound Cake
Drew G.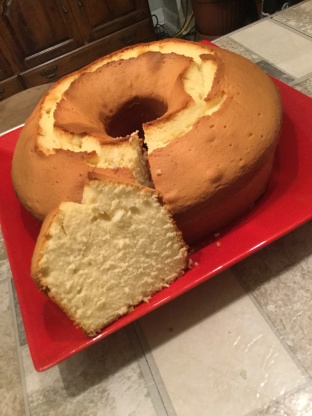 This is my wife's pound cake recipe and it is the best that I have ever had.

I can't believe no one has tried this recipe!! It is good!! Rich butter cake!!! If you are looking for something RICH and buttery...this is the cake to try. So easy to make as well. I was a little worried cos no baking soda or powder was needed in the recipe, and I thought I was being smart by adding 1 teaspoon in...NOT needed....I think it would have been fine anyway. Beautiful cake...great colour.. rises well. Can't go wrong!! Try it. I added Classic Buttercream Frosting #10211 by ~Christine~ to top it off. Served plain and it would still be good!! 5 stars for sure!!
Preheat oven to 325 degrees Fahrenheit.
Grease and flour a 9x5 loaf pan.
*IMPORTANT - ALLOW ALL INGREDIENTS TO REACH ROOM TEMPERATURE*.
With mixer on low speed, cream the butter until soft; slowly add sugar while mixer is running.
Once all the sugar has been added, beat until the mixture is fluffy.
Slowly add eggs, one at a time, mixing each egg well into the creamed mixture.
Add the flour and salt, mix until smooth.
Add vanilla extract and milk; mix until smooth.
Pour into the loaf pan.
Bake for 75 to 90 minutes or until golden brown.