Old Bisquick Streusel Coffee Cake Recipe
Prep 10 mins
Cook 22 mins
This is what used to be on the Bisquick box. This old recipe is moister and has a better topping (if you like gooey crannies) than the recipe on the box now (2008). For my family this is "Grandma's coffee cake" which she makes by the yard when we are together. It is easy to double (and we often do this) and then cook in two round pans. A doubled recipe can also be cooked in a larger rectangular pan (not sure of the cooking time though - sorry)
Directions
Heat oven to 375ºF.
Grease 9-inch round pan.
Make Cinnamon Streusel; reserve. (my sister often doubles this recipe so that there is lots of topping).
Stir coffee cake batter ingredients until blended.
Spread in pan.
Sprinkle with Cinnamon Streusel.
Bake 18 to 22 minutes or until golden brown.
Let sit a few minutes and then serve warm with butter and lots of milk or coffee.
Reviews
Most Helpful
I doubled this and baked it in a 9X13 inch pan for about 30-40 minutes. It was wonderful... as good as I remembered!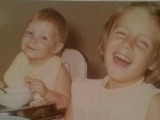 He original recipe use brown sugar in place of granulated sugar ?
So delicious, best Coffee cake ever and very moist...