Rita1652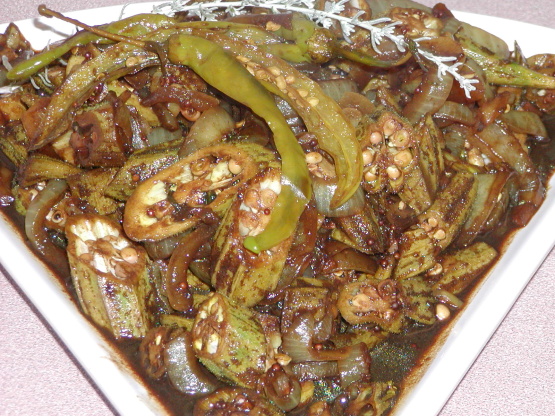 This is the way my mom prepares okra and the way we have had it all our childhood.

The reason for the 4 star instead of 5 is because I used these spices with squash (a tasteless vegetable in my opinion) and it turned out great. I know it will be a 5 star using okra as soon as I can find it in this "northern" state of existance. I also used the tamarind concentrate, but probably did not use enough. Thanks for a great recipe!
Heat 1 tblsp oil in a wok.
Add the mustard seeds, curry leaves, sliced onions and green chillies.
Saute till onions turn translucent.
Add the ginger and garlic and the cumin and turmeric powders.
Then add the sliced okra and the salt.
Saute till just mixed through so that it does not get sticky.
Let it cook on low till the okra is almost cooked without stirring.
Add the tamarind extract and mix and cook till the okra is cooked through.