PaulaG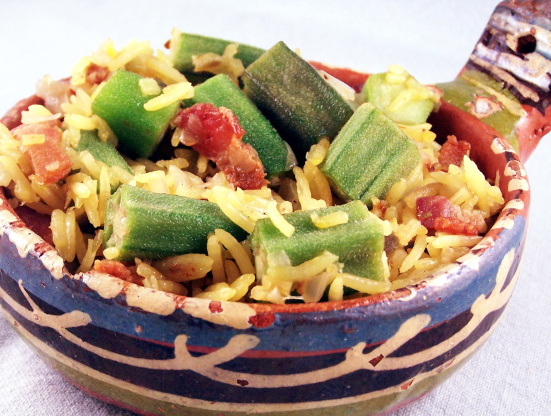 Pilau (pih-LOW) is a coastal South Carolina dish that consists of long-grain rice and usually some sort of meat or seafood.

Pilau (or perlau) is one of those dishes that has a million variations, depending on what's at hand and on how your granny used to make it. There's nothing much the matter with this recipe, but there's nothing much to commend it, either. I'd suggest at the least using chicken stock rather than water, and certainly feel free to throw in chopped celery or carrots, bay leaf, tomato, or a hot pepper. I found the liquid a little scant for the quantity of rice, but probably that depends on how juicy your vegetables are.
Fry bacon in a large non-stick skillet until it is crisp; transfer bacon to a paper-towel lined plate to drain; discard all but 2 tablespoons bacon drippings from skillet.
Cook okra, onion, and bell pepper in hot bacon drippings over medium-high heat for 5 minutes or until tender, stir frequently.
Add in rice and remaining ingredients; bring to a boil.
Cover, lower heat, and simmer 20 minutes or until water is absorbed and rice is tender.
Take skillet off burner; add in bacon, stir to combine.
Let sit 5 minutes.