Prep 10 mins
Cook 30 mins

I got this recipe from a peach festival in Stratford, Oklahoma. It only has seven ingredients and is..Soooooo simple and so YUMMMM!!
Directions
In a large bowl mix flour, 1 cup sugar, baking powder together and set aside. Mix egg and 3 tablespoons butter together and then combine with dry ingredients. Add peaches, mix well. Put in 8 x 8 glass dish and sprinkle with 1/4 cup sugar with 1 teaspoon cinnamon then dot with 2 tablespoons of butter.
Bake at 350 for 30 minutes Good with half and half poured on top after baked.
Reviews
Most Helpful
This was great! I will be putting it into my Favorites, do again cookbook. It has the texture of a bread pudding so it holds its shape very well. I goofed and did`nt read ahead and put the full 5 tblsp. of butter in, I did end up dotting it with another 2 tbsp. though. I think though that I`m going to continue making it that way because it turned out so good, I don`t know if the texture would have been different if I`d done it with 3 tbsp. or not. Another tip, it would help if you have the egg at room temp before you mix it with the butter otherwise it kind of makes the butter too cold. I ended up mixing it with my hands which worked out great. I don`t know if it was my oven or the fact that I used more butter in the mix but it took 50 minutes to set up. My husband who is not much of a dessert eater just kept raving on about how good it was and wants me to make it again real soon! Thanks so much for a great recipe! Vi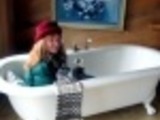 Verrrry nice! I had a few peaches left over after I had bought some at an organic food fair. I remembered this recipe and thought it would be nice for dessert. Yummy - I'm definitely making it again. Cream poured over the top is nice and so is ice cream!
My whole family really liked this. I think it would be good with other kinds of fresh fruit too. It is fast, easy and really good.