MsBindy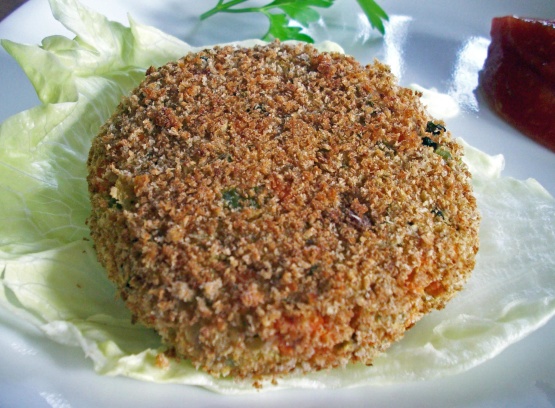 This recipe comes from Fatfree Vegan Kitchen. I was looking for recipes to use Okara after I received my soymilk maker and this is one that I found. Use a food processor to chop of the vegetables quickly. I've also let the mixture rest overnight with no problems. Prep time includes the 10 minutes to rest the mixture. Now, you won't mistake these patties for real Maryland Crab Cakes by any means. But, if you're looking for something a little different, you may find these are a good option.
1 -2

slice whole wheat bread, broken into pieces
1⁄2 cup celery, minced

1

medium onion, chopped

2

carrots, minced
1⁄2 green pepper, minced
1⁄4 cup parsley, chopped

2

cups okara (or amount from one batch of soymilk)
1⁄2 cup quick-cooking oatmeal (not instant)

1 -2

tablespoon Old Bay Seasoning

1

teaspoon nori (or other flaked sea vegetable)
Whirl the bread in a food processor into fine crumbs.
Place the crumbs on a baking sheet and toast in oven for about 8 minutes, or until dry and toasty. Remove and set aside for later.
In a non-stick skillet, cook the celery, onion, carrot, pepper and parsley until softened (about 5 minutes.).
In a large bowl, combine the okara, sauteed veggies, oatmeal and seasonings. Mix well and let rest for 10 minutes.
Preheat oven to 350°F Use 1/3 cup (packed) to form 7 patties about 3 inches across and 1/2 inch thick. Coat the patty with the toasted bread crumbs and place on a greased baking sheet.
Bake 15 minutes. Carefully turn over the patties and bake for another 15-20 minutes.