Oil and Vinegar Vinaigrette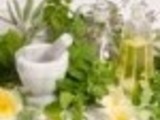 A terrific all-purpose dressing always in the refrigerator ready to garnish any salad. I recently added 4 strips of anchovies to the recipe and it is wonderful.
Directions
Pour lemon juice in measuring cup.
Add enough vinegar to make 1/2 Cup of liquid. Combine lemon juice, vinegar, dry mustard, garlic, salt and pepper in blender.
With motor running, slowly drizzle in the oil.
For a creamier dressing, whisk in 1 Tbsp of mayonnaise and 1 Tbsp freshly grated parmesan cheese to ½ Cup of dressing before tossing with greens.
Most Helpful
I eat a lot of salads so I use a lot of dressing (never buy them anymore with the abundant and terrific recipies here!!). I meant to add anchovies but forgot. Oh well, next time I will. Good dressing.
Very good. We had this on romaine with some parmesan cheese sprinkled on. DH said it was just what he would expect on a caesar salad if he was at a nice restaurant. I loved that emulsified so easily - I used my stick blender since I had it out for another recipe. I also like the basil, which really came through. Thank you!