CoffeeB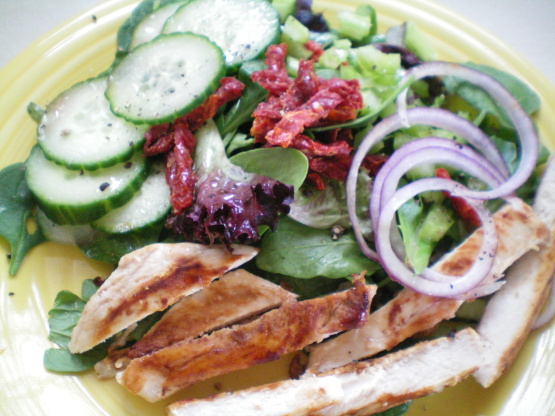 I always make this quick and yummy salad! It's really good and quite simple! Feel free to add more or lessen any of the ingredients to suit your taste!!!

Oh how I love *oil and vinegar* this is SO simple, but so many complex flavors since the vinegar, salt to taste, and a bit of oil to drip over all the leaves, cucumber, tomato, and onion. I did use the croutons, and added diced chicken that I had left over from Recipe #298977. I could actually eat bowls of this, and just love the way it goes perfectly with practically everything. I might add some hard boiled egg too, next time! Thank you Melibug! Made for *I Recommend Tag Game* Fall 2008
Wash lettuce. If whole, shred lettuce by hands or use a Ready Pac. Place lettuce in large mixing bowl.
Dice tomato, onions, and cucumber. Cut black olives in half. Place in bowl.
Grill the chicken in small pan. Add to bowl.
Add oil, vinegar, and garlic salt to bowl. Also add as much salt and pepper as you'd like. Mix all ingredients and taste. Add more vinegar, oil, garlic salt, salt, or pepper as suits your taste.
Serve and top with croutons! Enjoy! :D.