CandyTX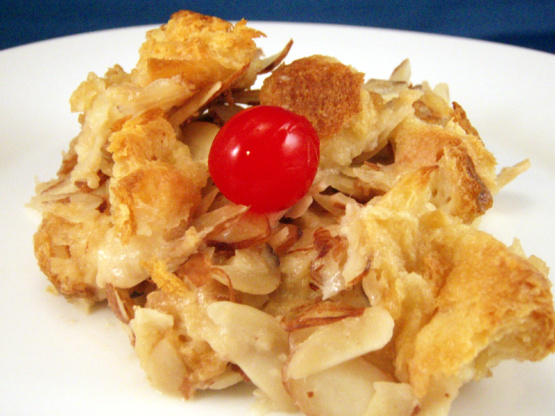 An easy dessert from Alexandria that I saw on a TV show and changed it a little.

I'm giving this 4 stars because it was really good... I did make a few changes. We used sliced almonds (and halved the amount) and we also added 4T of sugar and some cinnamon to the milk (so our kids would definitely eat it). We cooked it in one big 9X9 pan - baked for about 30 minutes. This was SO good... yummy! A definite keeper! Thanks for sharing this! We made it for the ZWT3.
Bake the crescent rolls until done (15 minutes) and let them cool. Crush them!
Boil the milk in a pot for 2 minutes. Remove from heat. Let it cool for 3-4 minutes.
In a bowl beat the cream with an electric mixer and then add the milk and mix well.
Then we take 5 individual bowls and we divide at the bottom half of the rolls crushed. Then add 2 tablespoons of ground almonds (or pecans, walnuts etc) in each bowl and then add the rest of the rolls.
Then add the milk mixture in the bowls.
Grill the bowls in the oven for 15 minutes.
Garnish with the cherries!