Bev I Am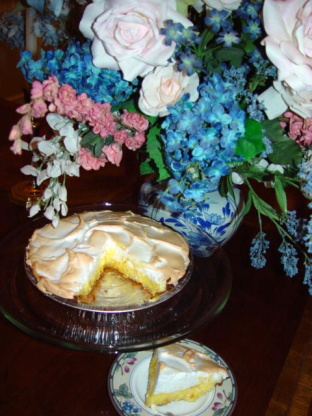 Gourmet November 1993 Note if you are seeking another recipe, it is not here. Google the name of the other recipe and I bet it shows up. The reviews are NOT for this one. Also click my name. Go to my homepage. Read the directions [wink]

I have had this on my to make list for two years! Excellent but somewhat sweet. I am not a very experienced baker and am incapable of multi tasking so this took a long time for me to prepare and the kitchen looked like a cyclone had passed through it. I was scared of cooking the egg and I stirred forever over a very low heat. But that was just my inexperience and I think it turned out just the way it was supposed to. (Much to my surprise because I just didn't think I could do it without a double boiler!) I did stray a bit and use a graham crust. Oh yes... and for me 11 key limes made the 1/3 cup juice needed. This recipe is a worthy legacy. I didn't know Jessie but I will never forget him. RIP Jessie.
Blanch the lemons for 30 seconds then drain and rinse with cold water.
Trim the ends of the lemons, toss them, cut the lemons crosswise into paper-thin slices. In a bowl cover the lemon slices with the sugar and let the mixture stand, stirring once after 1 hour, for 8 hours or overnight.
Preheat the oven to 425°F Remove the lemon slices from the sugar and arrange them in the shell. Add the eggs and salt to the sugar, whisk the mixture until it is combined well, and pour it over the lemon slices.
Cut slits in the crust with a sharp knife, forming steam vents, and bake the pie in the middle of the oven for 25 minutes.
Reduce the temperature to 350°F and bake the pie for 20 to 25 minutes more, or until the crust is golden. Let the pie cool on a rack and serve it warm at room temperature.
You might want to do a search engine search for the other pie if you bookmarked it.