Ohhhhh so Good Monkey Bread Muffins
Bayhill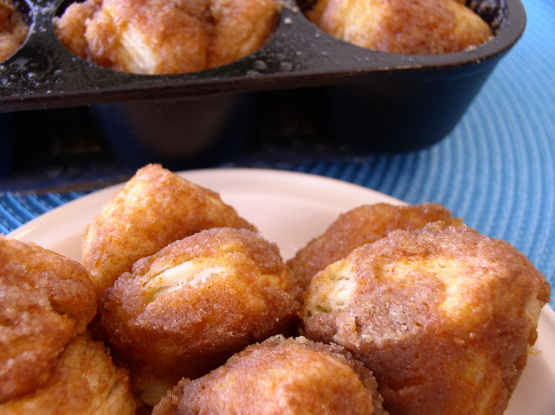 I love monkey bread, so when I saw this muffin variation in our grocery store circular, I knew I had to try them! Delicious, flavorful and oooohhhhh so good!

This was fantastic! I was looking for a smaller version of typical Monkey Bread when I found this and I am very glad I did! To my surprise, the grocery store I went to didn't have butterscotch pudding mix, so I substituted French Vanilla. It tasted great and I look forward to trying it with butterscotch. I reduced the amount of butter to about 1/3 cup and will probably use only 1/4 cup next time. I also used reduced fat biscuits, Splenda, and Splenda brown sugar blend. No one noticed the substitutions!
Preheat oven to 350 degrees and grease and prepare muffin tin.
Separate tube of dough into 8 biscuits. Cut each into quarters.
In a medium bowl, combine brown sugar, pudding mix, granulated sugar and cinnamon. Mix well.
Coat each quarter in melted butter. Roll each quarter in the brown sugar mixture.
Divide pieces evenly among 12 greased muffin cups. Pour remaining brown sugar mixture over each filled muffin cup.
Bake 15 to 18 minutes. Using a spoon, carefully remove each muffin from muffin pan.
Serve warm.