Ohhh so Yummy Chicken Kabobs
Liz in NJ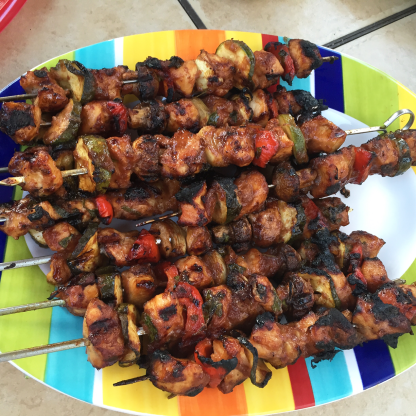 This is a recipe I have been making for years and it is always a hit. It's perfect for outdoor entertaining because you can prep the kabobs and keep them in your refrigerator until you're ready to grill. It's actually best to let it marinate overnight. The flavor from the marinade is awesome!! I like to serve this over rice - with a nice salad and bakery bread...simple and yummy. I hope you enjoy!

Top Review by bratty
Wonderful marinade! I used chicken, red, green, and yellow peppers, and some yellow onoin for the kabobs. Put them in the marinade on Friday evening and grilled them on Sunday. The kabobs were very flavorful, and the veggies were especially tasty. Most definitely be making this one again. Thanks!
Combine all of the marinade ingredients together, mixing well.
Cube the chicken into 1 inch pieces.
Chop the zucchini into 1 inch pieces.
Chop the red peppers into 1 inch pieces.
Cut the white onions into quarters.
Spray skewers (I use metal) with cooking spray.
Alternate the chicken and veggies onto the skewers. *Make sure you don't crowd them together or else the chicken may not cook evenly*.
Lay the finished skewers into a shallow baking dish (9 x 13 should work).
Pour the marinade over the kabobs.
Cover and refrigerate overnight.
Spray cool grill with cooking spray, to prevent sticking.
Preheat the grill (low to medium) and put the kabobs on, when heated up.
Brush with marinade and cook, flipping occasionally, until browned and the juices of the chicken run clear - approximately 15-30 minutes, depending on the heat of your grill.
*Be careful to not over-cook the chicken or else it will be dry. Also, make sure you grill the kabobs for a few minutes after your last application of the marinade. Discard unused marinade.*.
Enjoy!