'ohana Cheesy Scalloped Potatoes--Walt Disney World
lazyme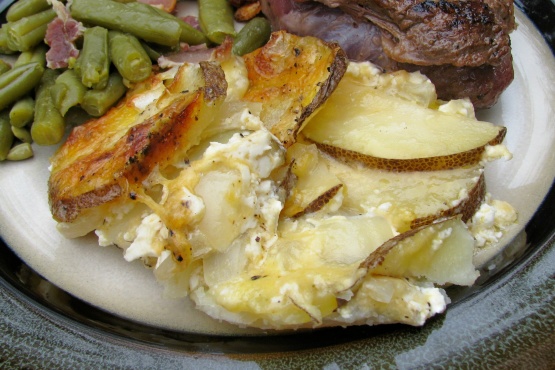 Disney World has a Polynesian restarant called 'Ohana that is one of our favorite places to eat there. My kids begged me to make 'Ohana Potatoes after we came home from our last trip. It took me a year to find the recipe but I finally did. We usually cut back on the cream and put in more cheese, but any way you make this, it's GREAT!

Top Review by lazyme
These were wonderful! I made these as directed except that I ran out of heavy cream, so used about 1/3 cup of 1/2 and 1/2 to reach the 1 cup. These were very easy to make using my mandoline, until it broke, lol. Simple and tasty. Thanks Chef Suzy!. Made for I Recommend tag.
Place a layer of potato slices and onion in a buttered shallow dish.
Sprinkle with some of the cheeses and salt and pepper.
Repeat layers and then pour cream over the potatoes.
Bake at 350 for 1 hour and then let stand 5 minutes.