Oh-So-Good Homemade Tortilla Chips
KaraRN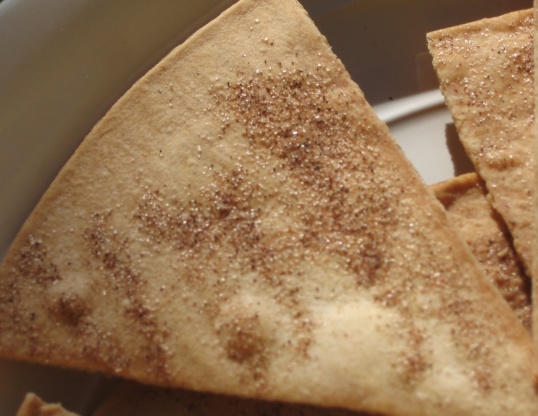 These are way-way better than anything you can buy. And so easy, the kids can do it. Let them, it'll be loads of fun! Get the cookie cutters out, and let the fun begin. Or use the pizza cutter--and it's done lickety-split! PLUS--no mess to clean up, because everything goes in the oven! Even the schnitzels from between the cookie cut-outs! See, I told you this was Oh-So-Good!

We enjoyed these a lot. Made them as one of a variety of nibbles to go with some drinks we were having last night. I wanted to make tortilla chips, but I don't deep fry anything, so the fact that these were baked was perfect. I didn't use salt and found they were a little bit bland, but that's my fault and certainly not the fault of the recipe. We'll definitely make this again. Thanks for sharing - made for ZWT5.
Preheat the oven to 350 or 375.
Lay the tortillas on the counter top, side by side, very close together.
Spray 'tillas generously with the oil spritzer; sprinkle with optional salt.
If using the pizza cutter AND in a hurry, stack 'tillas in piles of 3 or 5 and slice up quickly into triangles (make five to six cuts to get uniform sizes).
If using cookie cutters, don't pile up the tortillas--it's too thick and aggravating!
Lay the "chips" on the cookie sheets and pop them into the oven---bake ONLY until a very light brown.
Cool slightly and THEN--dive in!
You might as well double the recipe, because you're going to wish you did as soon as you take your first bite!