Pamela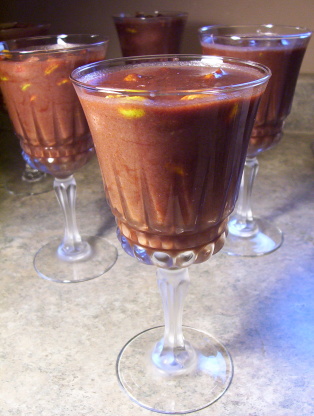 This recipe is so good- tasting, not for you! Oh my. It's well worth making. You've got to try this! Submitted for RSC #7.

Top Review by Pamela
Oh man is this ever a tasty treat! I made this as directed and actually waited until it was cool before I tasted it. This easily serves 8 because it is so rich tasting. I think that it would have been better without so many nuts and I will only use about 1/2 a cup next time. I will also crush them too. I think this would also taste great in a pie. Thanks for sharing this and good luck!
In a large saucepan, heat gently and stir constantly milk, sugar, eggs, and pistachios.
After 1/2 hour, when it starts to thicken, add strawberries. If you turn down the heat, you can stop stirring constantly, but still stir once in a while.
Add yogurt, vanilla, and tahini. Stir some more.
When it looks about the right consistency, add the chocolate, stirring briskly.
Remove from the heat.
Put in individual serving cups and refrigerate until ready to serve.
If you can't wait that long, it is good right from the pot.