Oh so Creamy Sweet Potato (Or Yam)
ImPat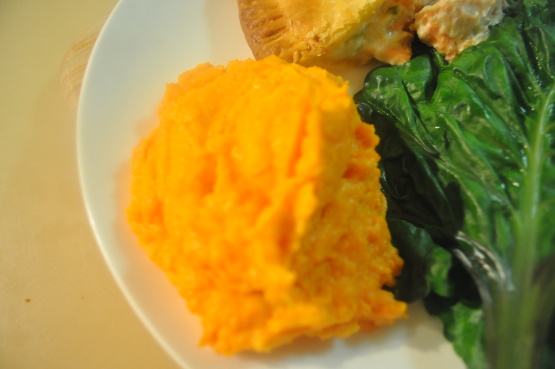 this is the creamiest yummiest pureed sweet potato you have ever eaten. you will need a blender/beater/food processor of some sort to make it.

I though for sure these would be a hit as we do like sweet potatoes. I thought they were very good - smooth and silky, almost like a mousse - they might work well in a terrine as well. Mr Grumpy took one bite and - well, I won't say anything more. I would use this technique again - so simple - but need to stop short and leave some lumps or something for Mr Grumpy!!!
peel and chop potatoes.
add to pot of boiling water.
cook the potatoes till they are over cooked and really soft -- (about 35-45min).
strain the potatoes.
return the potatoes to the pot (if using blender then add the potatoes to the blender).
heat cream and butter in a large mug in the microwave for 60 seconds (watch the mug to make sure it doesn't over boil.
pour the cream mixture over the potatoes
beat till smooth (10min) -- if using a blender you may need to stir the mixture half way threw.
add salt and pepper to taste.