LAURIE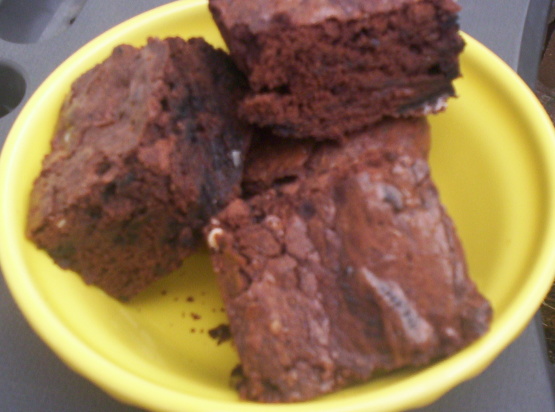 Not sure where I got this recipe, but these are tasty brownies.
4 and a 1/2 stars actually. I did tweak this recipe a bit. I was snowed in all of today and limited greatly on supplies. As an unsalted butter substitute I used I can't believe it's not butter. Instead of 5 ounces of unsweetened chocolate I used 3 oz. of semisweet and 2 of bittersweet and reduced the sugar to 1 and 1/8 cup. I ran out of vanilla so I couldn't add any of it. Also, I didn't coarsley chop ALL my oreos, I left some slightly chunky. I had no aluminum foil, so I simply buttered an 8 by 11 glass pan. The result though, was simply fantastic. I canNOT wait to try it again with all the essential ingredients.
Heat oven to 325ºF degrees. Line a 9- or 10-inch square baking pan with aluminum foil and lightly oil the foil.
Beat butter and sugar in large bowl of electric mixer until light and fluffy, about 2 minutes.
Add eggs, one at a time, mixing well after each addition.
Mix in melted chocolate and vanilla.
Add flour and mix in on low speed.
With a rubber spatula, fold in cookies.
Transfer batter to prepared pan; spread into an even layer with a rubber spatula.
Bake until a toothpick inserted in the center comes out clean, 40 to 45 minutes.
Cool on wire rack before cutting into squares.