Oh My Gosh....this is Good Pasta!
Redsie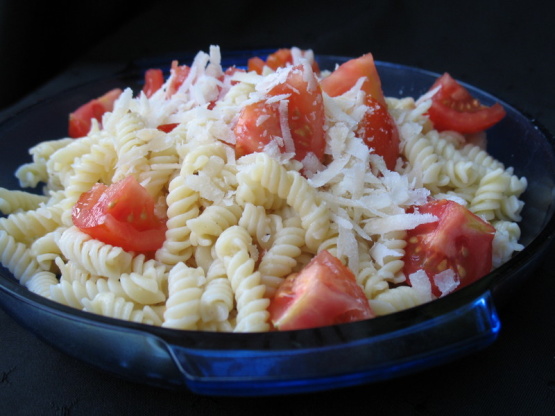 So easy, quick and delicious you won't believe it! Use a ripe and flavorful fresh tomato in this dish. It's best with fresh basil, but I know it's not always available to everyone and it still tastes great with the dried.

This looked gorgeous with the sprinkling of fresh tomato and basil over the top of the finished product. If you are looking for a very fast yet very presentable dish, this would certainly do quite nicely. Next time, I'd like to add a bit of sauteed garlic as well, but it is still deserves five stars without any additions or changes. Very tasty!
Cook and drain pasta according to package directions.
Drain and put back in the saucepan.
While pasta is cooking, stir together the butter, ricotta and 1/2 cup parmesan.
Toss this with the hot pasta.
Put in serving dish or dishes.
Top with tomato, basil and remaining parmesan.