Rita1652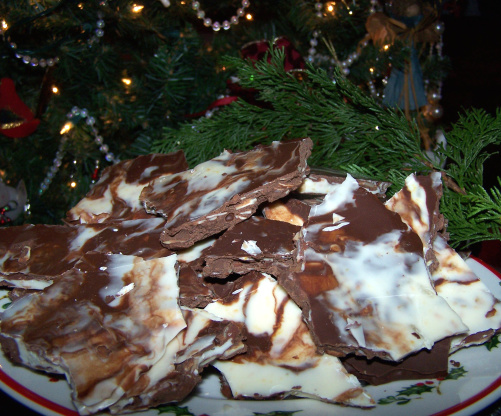 This bark is so yummy flavored with orange zest and candied ginger use store bought or Crystallized Ginger , Ginger Syrup & Ginger Sugar.This is a good way to use left over melted chocolate. 2009 I added 2 ounces of caramel squares that I diced to the semi sweet chocolate. Toffee added to the white chocolate in 2009 as well. As you see this is a very flexible recipe. Swirling is key for the bark look. Taste is all up to you!
Melt chocolates in separate microwavable containers according to directions on bags.
Mix almonds, caramel, and semi-sweet chocolate then place randomly in blobs on a cookie sheet with wax paper on it.
Mix ginger, cardamom, toffee and orange zest with white chocolate.
Then place in random spots among the chocolate.
Swirl the two together to make streaks.
Place another piece of wax paper on top. Then another cookie sheet to slightly flatten smooth. 2009 I used sil pads below and above the melted bark. It`s 20 degrees outdoors with 12 inches of snow expected so out goes the tray of bark to harden. ;).
Chill till hard and break into pieces.