Off the Hook Fried Fish Sandwich
gailanng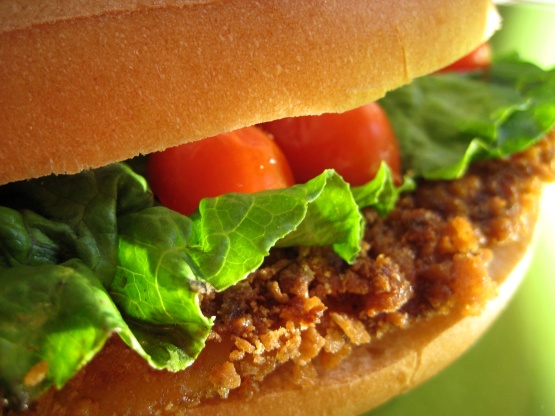 I adapted this delicious sandwich from Aaron McCarty who hosts Big Daddy's House on Food Network, and made a few changes to make it mine. I have given a recipe for seafood seasoning. Feel free to make your own or use storebought.

Fabulous fish! I'm afraid I filleted my own fish, so it was a bit thick. And with the cut baguette....lets just say I couldn't get my mouth around it. So I made mine an open-faced sandwich and enjoyed this soooo much! Made for Holiday tag game. Thanks for sharing!
To make Remoulade:.
Place all ingredients into a blend but the mayonnaise and pulse together for a minute. Pour into bowl and add mayonnaise. Mix together.
Chill in refrigerator until ready to serve.
To make seafood seasoning:.
Mix all together in jar, stir. Keep in tightly covered container.
To make fish sandwich:.
Preheat oil in saute pan.
Wash off fillets and pat dry with a towel. Lightly sprinkle with seafood seasoning on both sides.
In 3 separate bowls, place flour mixed with 3 tablespoons seafood seasoning. panko and 3 beaten eggs.
Dredge fillets into flour, egg and then panko. Add fish to oil and fry until golden brown, about 4 to 6 minutes. Remove to drain on paper towels.
Spread remoulade sauce on both sides of toasted bread.
Layer some romaine on the bottom, then top with fish, sliced tomato, red onion and a little more romaine on top. Add top portion of bread to make a sandwich. Repeat with remaining sandwiches.