twissis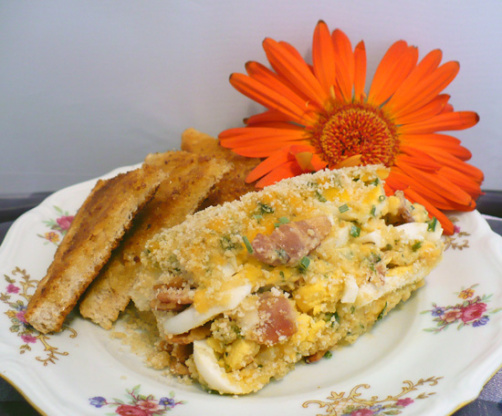 Please don't ask me what this means. I tried to look it up without success. My mother moved to a retirement home this summer and this was in her bag of recipes. Looks like a good breakfast dish for a crowd.

If the translation of this recipe tltle truly is "prize winning eggs", then it is aptly named & is what the 5* rating is all about in my book. I made 1/3 of this tasty, rich & company-worthy easy-fix for just 2 of us & got 4 generous servings using dried parsley as the only chg. I made it last nite, chilled it overnite & surprised DH w/a spec breakfast b4 he left for work. I served it w/simple toast points, but see it as a complete brunch meal if paired w/toast or bagels & some fruit. We loved this recipe & I can hardly wait to share it w/guests. Thx for sharing this "prize winner" w/us. :-)
Preheat oven to 350°F
Peel and slice thinly the hard boiled eggs.
Make medium cream sauce using butter, flour, light cream and milk.
Add Cheddar cheese, stirring until cheese is melted.
Season with garlic, thyme, marjoram and basil.
Add parsley.
Pour some of the cream sauce into a 13 x 9 inch baking dish.
Add a layer of egg slices, then bacon crumbles and more cheese sauce.
Continue until ingredients are used up, ending with sauce.
Sprinkle with buttered bread crumbs.
Bake for 20 minutes until bubbly and crumbs are browned.