Octopus and Seaweed (Ramen Noodles and Hot Dogs)
CandyTX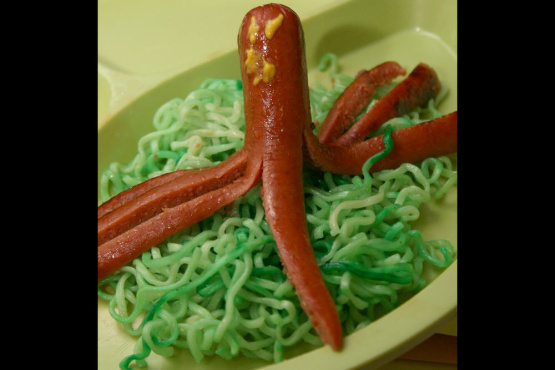 My kids always loved this. Was a great way to present an old idea.

My son loves his octopus and seaweed. I passed this recipe on to my sister and her kids loved it too. I only have one child. I boil up the weiner in the soup water and before I add the noodles I take the weiner out of the pot. I can decorate it while the soup is cooking. Lots of fun.
In saucepan, bring 1 - 1 1/2 cups water to boil.
Add noodles and contents of package.
Boil 3-4 minutes.
Meanwhile, add 4 inches of water to a learge saucepan, bring to boli.
Cut each hotdog into 8 strips to within 2 inches of one end.
Drop into boiling water.
Cook till heated through.
Add food coloring to noodless and drain if neccessary. Place noodles on serving plate.
Top with hotdog, standing up.
Add eyes and mouth with ketchup and mustard.