Another treat from the Disaronno website. http://www.disaronno.com/home.aspx
Make and share this Obici Martini recipe from Food.com.
28.34 g disaronno liquor
28.34 g bacardi o liqueur (USE BACARDI O)
0.25 ml cranberry juice
Directions
Stir all ingredients in a shaker or tumbler and pour into a martini glass.
Garnish with a twist of lime.
Enjoy! :).
Reviews
Most Helpful
Very nice martini! The flavors blend very well together and make one tasty treat! Not too strong but very yummy! Thanks Diva!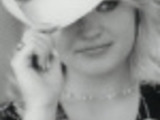 Delish!