Oats and Peanut Butter Giant Cookies
Katzen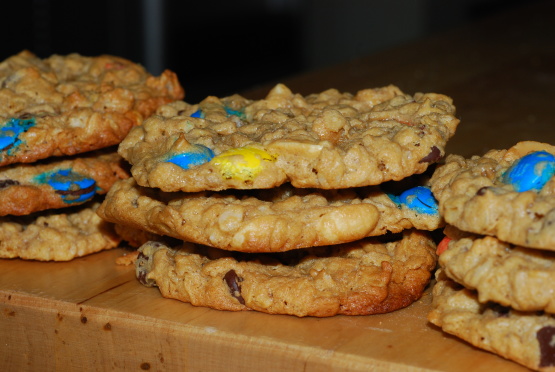 Absolutely FABULOUS! Temp, time and yield are right on (I did get 27 cookies instead of 26!) I used quick cooking oats and instead of adding nuts, I used crunchy peanut butter. These cookies didn't turn out quite as wide as I thought they would (because they don't spread much), but they are nice and chunky plus chewy. Really delicious! These are definitely going on my Christmas trays this year...thanks! Update 12/01/08: I made these last night with Old Fashioned Oats instead of Quick Cooking Oats. This time they spread A LOT! I'm wondering if the quick oats absorb some of the wetness of the mixture, more than the old-fashioned do. Either way, these are delicious cookies!
In a bowl, with an electric mixer, beat peanut butter and butter. Add brown sugar, sugar, baking powder, baking soda and mix until creamy and homogeneous. Add eggs and vanilla while beating. Add oats, peanuts and M & M chocolate. Mix with a wooden spoon.
Let drop dough, 1/4 cup at a time, on an ungreased baking sheet, leaving room of 4 inch between cookies.
Cook in a preheated oven of 350 F for 15 minutes or until the sides of cookies are lightly golden.
Put baking sheets on racks and let cool for 2 minutes. Removed the cookies and let cool completely on a rack.