Oats and Almonds Topped With Blueberries (Vegan, Mingau De Aveia
COOKGIRl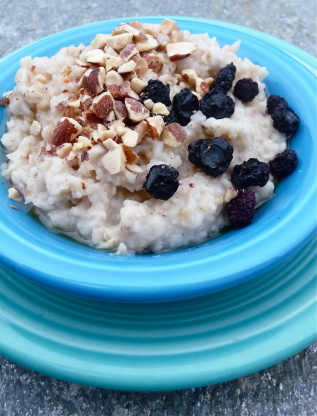 Brazilian grown ingredients make a traditional oatmeal of the region both healthy and vegan! A wonderful satisfying breakfast which is fresh, soft and crunchy! You may add raw/unpasteurised honey to the cooked oats to sweeten slightly but it really doesn't need it!!! Would also not be vegan that way. Modified from a recipe found on, evolvingwellness.com.

Easy and delicious breakfast. I added a little bit of brown sugar. Thanks for sharing! Veggie Swap 48
Prepare oats according to package directions, cooking time takes between 10-20 minutes depending on how you like your oats. (I use water and that way it is vegan).
Rinse the blueberries.
Throw a handful of almonds into the cooking oatmeal for the last 2 – 4 minutes.
Place the cooked oats & almonds in a bowl and top with fresh blueberries.
Enjoy!