Oatmeal with Barley and Blueberries
Mandy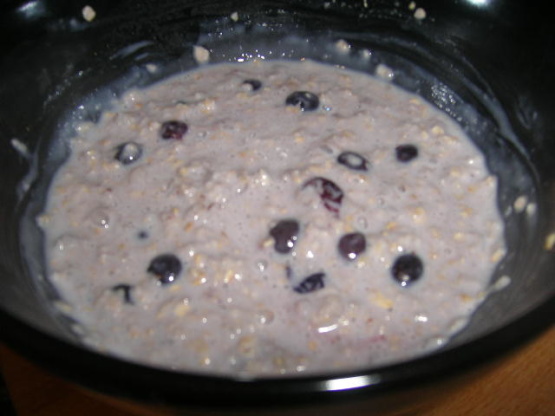 A quick yummy breakfast that is low fat, low sugar, and high fiber. I add the protein powder to give it a little extra "staying power." (You can find the natural stevia sweetner at most health food stores. I like it because it is natural, tastes good, no calories, and doesn't raise blood sugar levels.) I pre-cook the barley the night before in my rice cooker (3/4c barley + 3 cups water)

Top Review by Mandy
I had some leftover barley so thought I'd give thsi a go. I had to cook for 2 mins and let stand to thicken. I used milk instead of water for extra creaminess. A great filling brekky that saw me through til lunch no problem & great because I didn't feel guilty eating it. I also tried my porridge loving 20 month old daughter on this but unfortunately she wasn't too fussed with it, spent more time playing with it than eating it. Will be making it again for myself though, thanks!!
In a microwave safe bowl, combine all ingredients.
Add enough water to cover mixture by 1/2 inch.
Stir well.
Microwave for 1 minute.
Makes 1 yummy serving.