Rita1652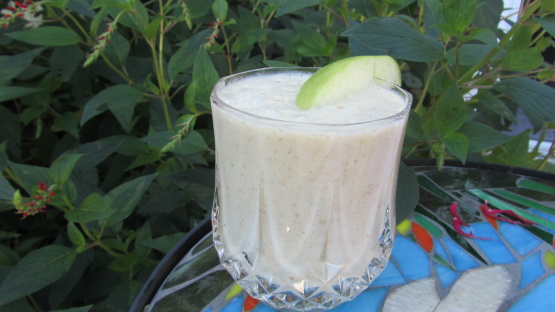 Oatmeal is a great addition to a smoothie — it's a thickener with lots of fiber and nutrients. With the pinch of turmeric in this recipe comes curcumin, a compound that has been used for centuries in Ayurvedic and Chinese medicine for its anti-inflammatory properties. By Martha Shulman & posted on the NY Times Website.

In a rush to get to work I threw the oatmeal in the blender with hot water. Let it sit while I got the rest of the ingredients. Using a whole large apple minus the applesauce, Added 1 teaspoon flax seeds, skipped the syrup. Loved the turmeric as my arthritis is acting up. In a rush so forgot the cubes and you know it was great without it! Thanks for a healthy breakfast on the run.
Combine the oats and water in a microwave safe bowl and microwave for two minutes or bring to boil on stove in saucepan.
Combine the hot oats and the remaining ingredients, along with a few ice cubes, in a blender, and blend at high speed. Serve at once.