Oatmeal Spelt Brown Bread
Bobbiann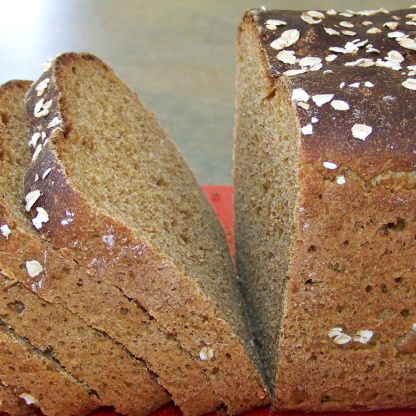 Bread-machine recipe using spelt flour. Healthy and delicious. Prep time includes bread machine time but not final rise in loaf pan. May be different according to your machine.

This was the first recipe I used in my new Cuisinart machine. I did the entire process in the machine and didn't interrupt the cycle. I set it on "whole grain" and medium crust- it was done in over 4 hours. That was too long! I should have referred to your prep time and then reset the program. HOWEVER, although the crust was very dark and thick, the texture was lovely. I'll do it again making changes only in the setting, not the ingredients.
In a medium bowl, combine oats and boiling water. Let cool to lukewarm.
Add butter, warm water, salt and molasses. Stir and pour into bread bucket.
Add both flours and yeast. Start machine on dough cycle. (Or use whole grain cycle and disregard step 4.).
When cycle ends, dump out dough on floured board. Knead several times and place in greased loaf pan. Let rise in warm place until doubled. Bake at 375ºF for 20-30 minutes.