Oatmeal Scones With a Bit of Heaven
loof751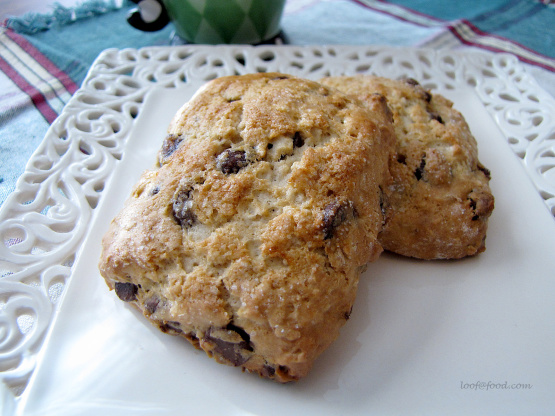 From Nestle - these oatmeal scones are pretty enough for tea time and easy enough to make to serve for breakfast for your family. The Bit of Heaven in these is the chocolate - it is its own food group right?
Preheat oven to 425°F
In a large bowl, combine the flour, brown sugar, baking powder and salt.
With pastry blender cut in butter until mixture resembles coarse crumbs.
Stir in mini morsels and oats.
Reserve 2 tablespoons of the beaten eggs (set aside) and combine the remainder of the eggs with the milk in a small bowl.
Stir egg mixture into the dry ingredients just until moistened (do not over-mix).
On a lightly floured board, roll dough 1/2 inch thick. Cut into 2-inch diamonds (2 inches across and 2 inches long).
Place on ungreased cookie sheets. Brush tops of pieces with the reserved beaten eggs and sprinkle with the granulated sugar.
Bake 10 minutes or until golden brown. Great served warm.