Oatmeal Raisin Walnut Breakfast Bread

It comes together as easily as a pan of cornbread. Not too sweet -- those of us who don't care for sweets at breakfast can eat it. But a small amount of brown sugar brings out the flavor of the raisins and nuts. Note -- with the rising price of milk, I usually use dry milk for this sort of thing.
Directions
Preheat oven to 350.
Mix dry ingredients in a medium mixing bowl. Mix wet ingredients in a small bowl.
Add to dry ingredients and stir until just mixed. Batter will be lumpy.
Pour into a greased 8 or 9 inch square pan.
Bake 40-45 minutes or until a toothpick inserted in the center comes out clean. Cool for 10 minutes before cutting.
Most Helpful
This is a decent recipe. It's a very filling bread. Great for an on the go type of breakfast bread. The bread is bland if you make the recipe as is. If you add a few more things to the mix, it's worth making. Add in addition to the recipe: 1/3 cup dark brown sugar 1 1/2 or 2 ts cinnamon 3/4 ts nutmeg 1/2 ts cloves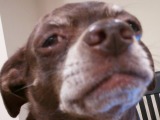 This is fantastic...moist, nutty, and much better than a standard muffin. I added a tsp of cinnamon, 1/4 tsp ea. cloves and nutmeg to give it a kick. I didn't experience clumping of nuts and raisins but did add a bit more of each second time I made it. My family loves it because it's not sweet. Great as a morning coffee meetup treat.
This was o.k., but nothing to write home about. The raisins settled mostly to the bottom and where concentrated in clumps together. All in all not really worth the time.