Oatmeal Raisin Spice Cookies in a Jar
KateL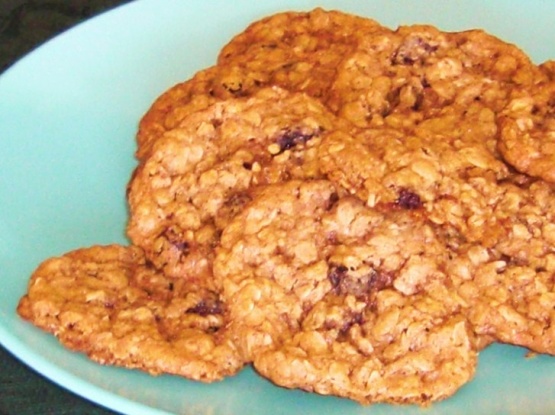 I have not tried this one yet but the recipe comes from a reliable source with positive feedback from other home chefs. Posting it here because I will never find it again otherwise.

Top Review by KateL
Excellent oatmeal raisin cookie, not rock hard, just slightly chewy the way I like them. The decorative jar is attractive, but I found that once the ingredients were allowed to remain in the jar for a couple of weeks, I needed a spoon to work the hardened packed brown sugar out of the jar, and then needed to rub the mounds of brown suger between my fingers to separate before mixing the ingredients. The entire mixing process was very hands on, so I would recommend plastic gloves. To have perfectly shaped cookies, I would leave about 1/2 inch more between the cookies to allow for the spread; unless I split the conjoined cookie edges prior to lifting off the cookie sheet, one of the cookies was likely to break apart before it reached the baker's rack (those were my samples). I ended up with 42 cookies. Thanks for posting, Toni! Made for 1-2-3-4 Hit Wonders.
Mix together flour, cinnamon, ground nutmeg, baking soda and salt. Set aside.
Layer ingredients in order given in a 1 quart canning jar. Try and find one with a wide mouth as it will much easier to pack. Getting all the ingredients to fit will require some pressing and tapping. Please be sure to firmly pack down each layer in place before adding the flour mixture.
Instructions to attach to jar:.
Oatmeal Raisin Spice Cookies.
Empty jar of cookie mix into large mixing.
bowl. Use your hands to thoroughly blend the.
mix.
Add 3/4 cup butter softened to room temperature. (To make a lower fat cookie, you can replace up to two thirds of the buttrer with unsweetened applesauce.) Stir in one egg, slightly beaten. Add in 1 teaspoon of vanilla.
Mix the dough completely blended. You may need to finish mixing with your hands.
4. Shape into balls the size of walnuts. Place on a parchment-lined cookie sheet 2 inches apart.
Bake at 350 degrees F for 11 to 13 minutes until edges are lightly browned. Cool 5 minutes on baking sheet. Remove cookies to baking racks to finish cooling.
Makes 3 dozen cookies.