Oatmeal-Raisin Cookies (Cook's Illustrated)
Chilicat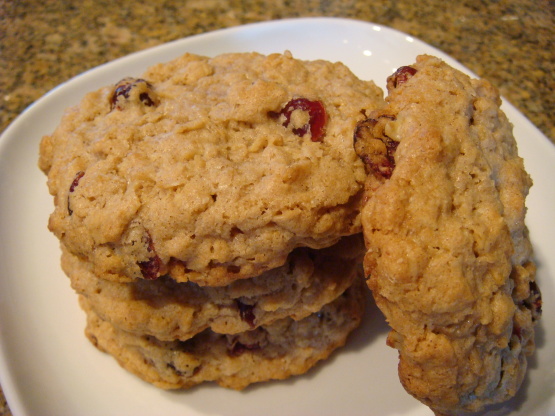 This recipe is from Cook's Illustrated Magazine. It, along with the Chocolate Chip cookies, are now expected of me at all family functions. Best I've had. I also find that even, though the portions are somewhat large, it's better to cut them in half aftward than make them smaller, or else they dry out.

You can always count on Cooks Illustrated for super recipes. I used the large Pampered Chef cookie scoop for these and found that 18 minutes was perfect for the slightly smaller size. I managed to get 24 cookies out of the recipe. I substituted craisins for the raisins and added 1 tsp. of cinnamon in place of the nutmeg (I wasn't sure how the nutmeg would go with cranberries). The cookies were awesome - chewy in the middle but crispy on the edges. This will definitely be my "go-to" recipe for oatmeal cookies from now on! Thanks so much for posting!
Adjust oven racks to low and middle positions; heat oven to 350 degrees. In bowl of electric mixer or by hand, beat butter until creamy. Add sugars; beat until fluffy, about 3 minutes. Beat in eggs one at a time.
Mix flour, salt, baking powder, and nutmeg together, then stir them into butter-sugar mixture with wooden spoon or large rubber spatula. Stir in oats and optional raisins.
Form dough into sixteen to twenty 2-inch balls, placing each dough round onto one of two parchment paper–covered, large cookie sheets. Bake until cookie edges turn golden brown, 22 to 25 minutes. (Halfway during baking, turn cookie sheets from front to back and also switch them from top to bottom.) Slide cookies on parchment onto cooling rack. Let cool at least 30 minutes before serving.