Oatmeal Raisin Bar Cookies
alex5016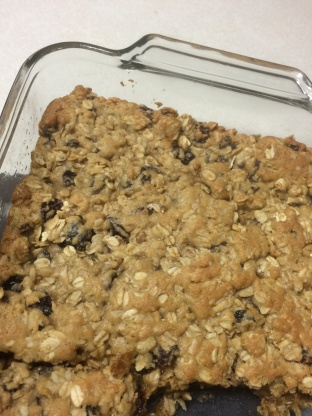 This is a thick, satisfying, tender, and chewy bar cookie/blondie. A perfect holiday recipe! Don't overcook, as you want these to be moist. I got this recipe from a great online blog, "Baking Bites".

Made these cookies for a potluck at church and they were a huge hit!!! So tasty, soft and chewy. I would suggest making a double batch of these cookies, as they disappear quickly! Thanks for a great recipe that we will use again and again.
Preheat oven to 350°F Line an 8×8-inch baking pan with parchment paper (optional, but aids in getting cookies out of pan).
Whisk together flour, sugar, brown sugar, baking soda, salt and spices in a large bowl.
Make a well in the center of the flour mixture and stir in vanilla, egg and melted butter until smooth. Stir in oats and raisins until they are evenly distributed.
Pour dough into prepared pan and spread into a even layer with a spatula or your fingers. Bake for 22-26 minutes, or until bars are set and the center no longer looks wet. Edges will be golden brown. Cool pan on a wire rack before slicing. Cut into rectangular bars to serve.