Oatmeal Raisin Applesauce Cookies
CDrost1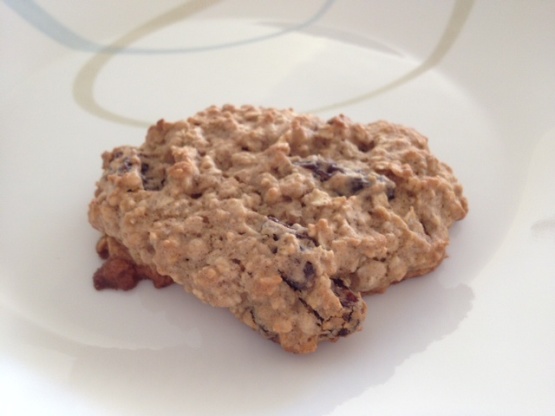 Modified from a recipe from lifescript.com

Calling these cookies is a little generous, they taste more like an oat muffin to me. However,considering these are meant to be more healty, you can't compare to a normal oatmeal cookie. They are good for what they are but I have some suggestions that I learned from making them. They will not spread at all like a normal cookie, so I would recommend flattening them before baking. Whatever shape you put in the oven is what they will come out looking like. I added walnuts and a raisin assortment which was nice. After the first batch I added cinnamon to the batter because I thought it was a bit bland. They recipes is forgiving and if you like spices I think allspice, nutmeg, and cinnamon would work nicely. I made this for my boyfriend who doesn't like sweets so I cut the sugar in half which was still good but may also be contributing to why this is tasting like a muffin. They baked for about 8 minutes in my oven.
Heat the oven to 375°F Lightly grease cooking sheet.
In a large bowl combine the flour, baking powder, baking soda and salt.
In the bowl of an electric mixer, cream the butter and both sugars together. Beat until smooth, about 1 minute. Add the applesauce, egg and vanilla and mix until blended about 2 minutes. Add the flour to the applesauce mixture and mix well. Remove the bowl from the mixer and stir in the oats and raisins.
Drop rounded teaspoonfuls onto the prepared baking sheets about two inches apart.
Bake until slightly golden, about 10 to 12 minutes.
Remove the baking sheets from the oven and cool on wire racks for 5 minutes. Remove the cookies and cool completely.