Bobbie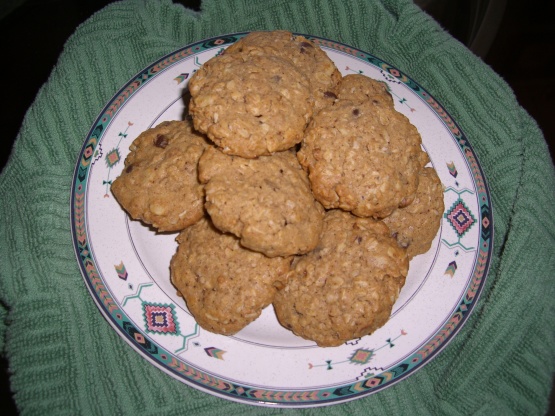 These cookies are *fabulous*. They bake out crispy around the edges and soft in the middle--they are just the perfect texture! Have fun with this recipe and try different flavors of pudding mix. Butterscotch is good, coconut cream works well also just add in shredded coconut to the batter. Plan ahead, the cookie batter needs to chill for a minimum of 2 hours before baking.

Just made the cookies and just like otherrs have said MOIST AND TASTy Left in about 8minand let finis baking on sheets
Grease a large cookie/baking sheet.
In a large bowl cream together the shortening, butter with brown and white sugar until smooth and fluffy.
Add in eggs and vanilla and mix until thoroughly combined then add in pudding mix and beat until thoroughly combined.
In a small bowl mix together flour with baking soda, pinch salt and cinnamon; add to the creamed mixture and mix until combined.
Stir in oats until combined, then stir in nuts.
Chill dough for 2 hours or up to 24 hours in refrigerator.
Drop by heaping teaspoonfuls onto cookie sheet.
Bake at 350°F for 8 minutes or until edges are light golden brown (do not over bake).
Cool on wire racks.